Going out on the water with family or friends means alternately being active and leaning back. Spending time together and enjoying good food. Mostly surrounded by nature, undisturbed and far away from the daily hectic pace. Exactly, now that's relaxation!

Taking a sailing trip on the IJsselmeer or across the Wad brings people closer together. And no worries, there is enough space and variety on board for everyone. So, finally some time for a good conversation, or that wonderful book.

Sailing together is an original and sustainable idea for celebrating something beautiful
Our ships mainly move purely on wind power. The elements determine the pace and rhythm on board. We call it Go with the Flow. The layout of a weekend of sailing is flexible. Just like the number of boarding spaces. Choose as well for such an unforgettable experience. And don't forget: the journey is the goal, being together is the destination.
4x why renting a sailing ship with friends and family is so valuable: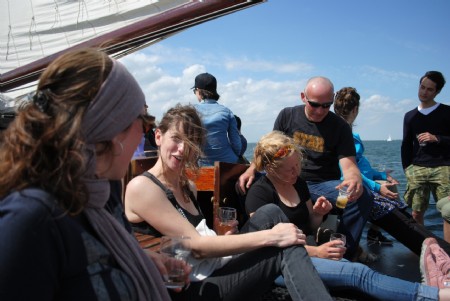 1. Finally, time for each other

So, opting for a holiday park for the family weekend together, that is of course also an option. Everyone can do what they want, such as taking a walk, going to the swimming pool, shopping. But before you know it, the weekend is over and half of the people have hardly seen or spoken to each other.

Taking a trip together on a sailing ship is a different story. Everyone is in the same boat. And yes, that sometimes takes some getting used to. But after a while it always ends up producing some beautiful moments. Experience how relationships deepen, by spending time real quality time with each other.
Also make time for creating valuable memories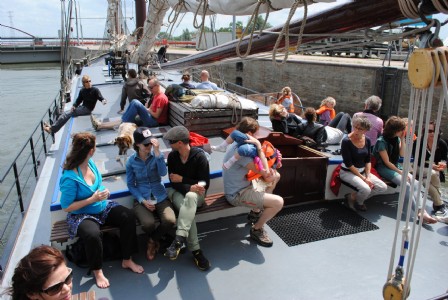 2. Everyone experiences some peace and space

A day, weekend or even longer together on a boat ... some people may feel a bit 'claustrophobic' beforehand. And we understand that. But we're not worried. From experience we know that on a boat there is still a lot of room for everyone.

The skipper and his crew are happy to invite those around to make an active contribution. Together we hoist the sails and determine the course. But don't make it a competition. Ordinary life is often hectic enough. At the same time, there is always a moment for yourself on the deck, in the salon or in the individual cabins. Relax!
Give everyone the opportunity to relax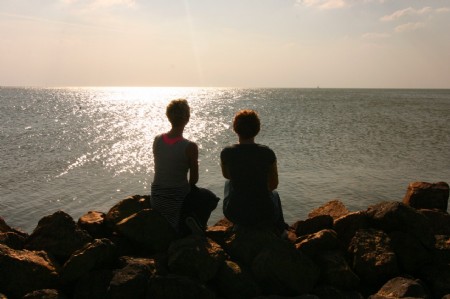 3. Get a taste of nature and freedom in silence

Once on board, everyone is far away from the (digital) highway. The real enjoyment starts as soon as the ropes are let loose. That's when both the ship and you are literally not tied to anything anymore.

The openness of the open water beckons as the skipper sets course for the horizon. Once sailed out, the sails hoisted, the views of the IJsselmeer emerge, which certainly impresses. Whether the boat is completely silent or 'eager'. Look, smell, taste. What a beautiful water surface, what possibilities. Exactly. What freedom.
And all this, simply right here, in the Netherlands.
Also get a taste for how great nature and freedom tastes!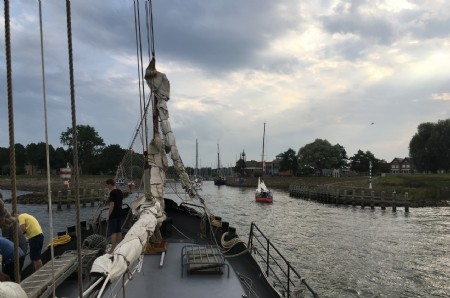 4. You really get somewhere

Get to know the Netherlands from the waterfront during a one or multi-day sailing trip. After all, sailing is an authentic way of traveling between A and B.

That means boarding in the morning in Lemmer and mooring in the evening in Enkhuizen. Or set a course from Harlingen towards Terschelling. The longer the stay, the more is possible. And how cool is it to do all this on the power of nature? The wind in the sails provides a fun and a sustainable experience. With a bonus being a surprising new destination every day.
Also choose a trip with surprising destination(s)



Sailing on the IJsselmeer or the Wadden Sea, difficult to choose
The IJsselmeer is big, in all its simplicity. There is optimal sailing here, with many great destinations within reach. The Wadden Sea is right behind the dike and is completely unique in its own way. The islands are like pearls adjacent to a special area that from time to time reveals its secrets. Exactly. It's going to be difficult to choose!


And we're not going home yet…
The Frisian Sailing Company offers different rental periods for its sailing ships:
a day: 10:00 a.m. - 5:00 p.m.
a weekend: Friday evening 8:00 p.m. to Sunday afternoon 4:00 p.m.
an extended weekend: Friday afternoon 1:00 p.m. to Sunday afternoon 4:00 p.m.
a midweek: Monday morning 10:00 a.m. to Friday afternoon 3:00 p.m.
one week: Friday evening 8:00 p.m. to Friday afternoon 3:00 p.m.
Of course no family or group of friends is alike. We can deviate from our standard rental periods, upon consultation. There are many possibilities! We are happy to advise you on which ship, rental period and boarding space best meets your wishes and expectations.

GIVE ME ADVICE
This is how a weekend sailing on the IJsselmeer goes
No idea what to expect? We are happy to outline what an average weekend away with friends or family looks like.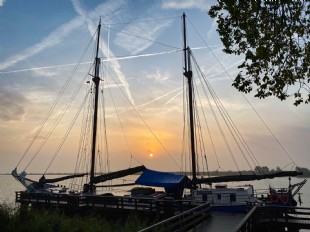 FRIDAY
Everyone is welcome on board from 8 p.m. Then you can explore the ship and of course divide the cabins. Afterwards, a pleasant evening with the opportunity to have an extensive chat awaits. Preferably while enjoying a snack and a drink?

Every ship has an extensive kitchen, where you can prepare anything yourself. We do the shopping on request, so that the fridge is filled upon arrival. Convenient!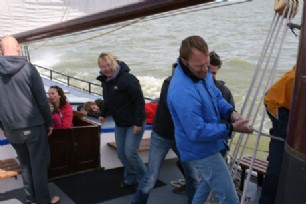 SATURDAY
Rippling water and the call of a couple of coots. Now that's waking up! We check the current weather and forecasts early in the morning. The skipper will determine the route and the desired destination shortly before or after breakfast. Then the ropes are let loose and we head out towards the open water. And of course the sails go up! The crew will encourage everyone to help. But nothing is mandatory. Hungry? Many people have lunch in the salon or on the deck, simply during the sailing trip.
In the (late) afternoon a port awaits as the final destination of this exciting day. Choose a cosy home-made meal on board or go out for dinner. Energy left? Take part in another activity ashore: the possibilities are numerous. Sleepy and satisfied, everyone goes to dreamland.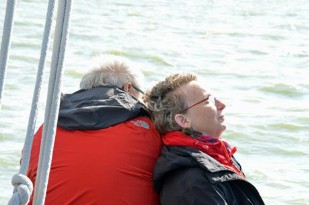 SUNDAY
Get up early or sleep in late? Anything is possible. Depending on the weather and other specific wishes, we set sail again with the wind in the sails towards the vast IJsselmeer. But not before enjoying an extensive breakfast first! We return that afternoon around 4 p.m. to the starting port. Making an interesting pit stop on the way is often possible, consult us for the different options.





Sailing on a traditional ship is planning and improvising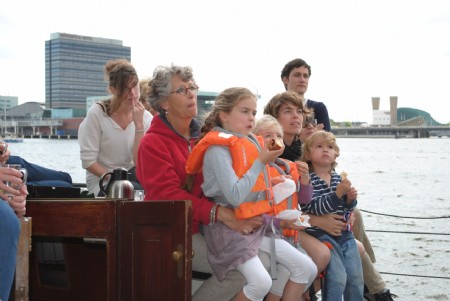 We will of course go sailing. But there is so much more that is possible. With intention of fulfilling a day or multi-day stay, we try to meet the wishes of each group. We advise on the most suitable ship, feasible routes and we know exactly which port towns are worthwhile. Or which additional activities offer a nice addition to a special weekend. However, we don't have control over everything. On the Wadden Sea we are dependent upon the tide. And the weather of course plays a major role everywhere. Strong winds, or the absence thereof, can sometimes throw a spanner in the works.

Do the circumstances require a last-minute change to the layout of the day? If so, many activities ashore can be arranged ad hoc. If not everything goes according to plan, then improvisation is necessary. Don't worry. We're used to it.

There is always something to do around the IJsselmeer and the Wad
Sailing itself is of course an experience in itself. And an additional activity can make your stay on a sailing ship complete. We have listed the most popular options:
Art, culture and history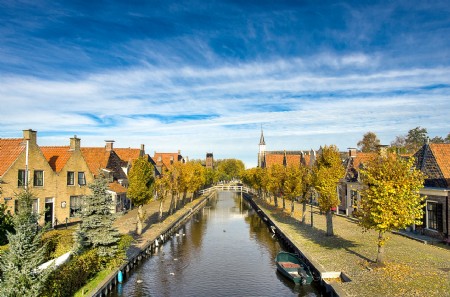 Take a city walk in Amsterdam, Hoorn, Volendam, Harlingen, Sneek or Sloten
View Rembrandt's Night Watch (and more masterpieces) in the Rijksmuseum in Amsterdam
Experience how people lived, and survived, in the Zuiderzee Museum in Enkhuizenleefde
The Steam Museum in Medemblik tells how electricity used to be generated
Discover the power of steam in the Woudagemaal Lemmer
In Workum, see how Jopie Huisman captured ordinary life with his paintings
Become a lord or maiden during a visit to the Muiderslot in Muiden
Environment and sustainability
Examine the seabed if it is low tide by dry docking on the Wadden Sea
Learn more about the construction of the Afsluitdijk in the Wadden Centre in Kornwerderzand
Admire the seals that come to regain their strength in Ecomare on Texel
Walk through a natural landscape made with human hands in New Land Lelystad
Relaxation and entertainment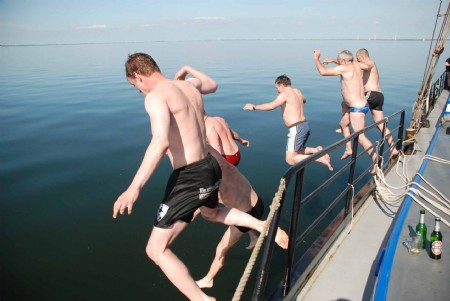 Relax on the beaches of Lemmer, Stavoren or Enkhuizen
Discover the towns and villages and be surprised every time
Search endlessly for bargains at the Bataviastad Outlet Centre Lelystad or at Waterlooplein in Amsterdam
Anchor and take a refreshing dip in the water
Sporty and culinary
Rent bikes and explore the Wadden Islands Texel, Vlieland or Terschelling
Order fresh kibbling on Urk, or enjoy an eel sandwich in Volendam
Have a cooking competition: which kitchen team cooks best?
Play football or volleyball barefoot in the sand in Medemblik or Hoorn
Disembark on an uninhabited island and enjoy a bbq
Also have a look at our overview of popular destinations on the IJsselmeer, the Waddenzee and the Markermeer to discover what there is to do in which places.

Time to eat!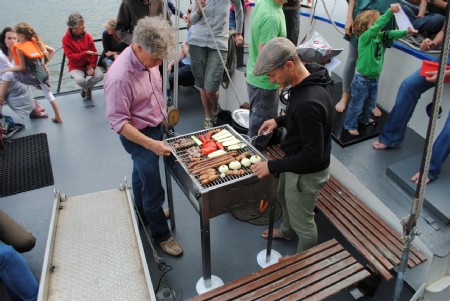 Sailing undoubtedly creates an appetite. Every ship therefore has a well-equipped kitchen on board. In no time, various hot or cold dishes can be put on the table. A pan of macaroni is simple, nutritious and quick. It's of course also possible to arrange for real culinary toppers on board. But cooking together is of course always fun.
There is sufficient storage and cooling for a large stock of groceries. We can do this in advance if you'd like, so that the fridge is filled upon arrival. In most ports, it's also possible to order groceries online and have them delivered on board.

Catering
No time or desire to cook yourself or have to make piles of sandwiches? Choose a catering package. Then you'll have your own chef on board to serve healthy cold and/or hot meals, and taking into account any dietary requirements, preferences or allergies. And perhaps the biggest advantage? Nobody has to spend hours in the kitchen during the outing! Please note: a catering package always includes drinks. The drinks that have been enjoyed are noted and settled at the end of the stay.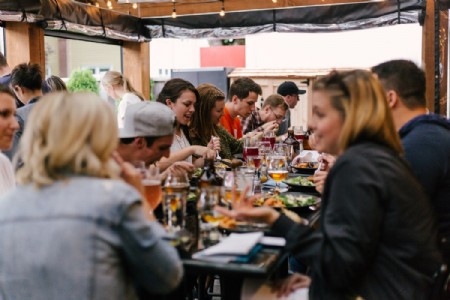 Dining out
Discover the local specialties, step ashore and enjoy a delicious meal. Avoid disappointment and book in advance. The smaller eateries in particular are not always prepared for a spontaneous visit of a larger group. Are there children who don't always have the patience for sitting in a restaurant? Or who don't like much that's on offer there? Of course you can also pick up food or have it delivered on board. Think Chinese, fries, pizzas, kebabs ... mmm that tastes like a real party!

Drinks
Want to be self-sufficient and supply your own drinks? Then you can store enough coffee, tea, soft drinks and any alcoholic beverages yourself. Prefer not to lug around crates and bottles? Let us do the shopping. On some ships there is a bar with a beer tap installation on board. Cosy! We supply the required beer barrels for this, to order.

A suitable sailing ship for every group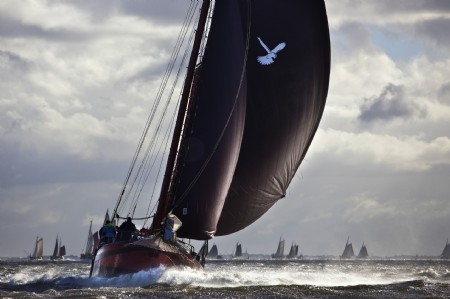 Our fleet has nearly 30 ships. Each with its own character, a high-profile skipper, expert crew and various facilities on board. Of course, the size and composition of the company determines which ship is most suitable.

The number of sleeping spaces on board is variable, as well as the composition and comfort of the sleeping quarters. The cabin layout and size is not the same on any of the ships. Fortunately we know them all and that's why we will gladly make a no-obligation proposal for the most suitable sailing ship.
This is what a weekend of sailing costs
The base price of each ship includes skipper, a crew member, port dues and fuel costs.
Other costs depend on the size of the company and any additional wishes. Just as we can arrange a customised trip, the cost is customised just as well. Nothing is worse than unexpected costs at the end of the trip, so we outline, in advance, what the total travel sum will be, clearly and concisely.
Take these variable costs into account
final cleaning (amount varies per ship, usually paid in cash on board)
food and drink (there may be the option to use a shopping service)
catering (with your own cook on board)
bed linen, in case of overnight stay (options and amounts vary per ship)
additional outings and activities
Want to make special memories?
We are happy to list all the costs of sailing with family or friends on the IJsselmeer or Wad. No worries, we will make a no-obligation offer!

SEND ME A FREE QUOTE FOR A SPECIAL TRIP

No worries, you will receive a non-binding offer. So you are not committed to anything. OK ... except maybe a cool idea, that you won't want to let go ;-)



This is what our customers say about such a special sailing trip:
Moritz
Oktober 2019 - Leafde fan Fryslân
Very nice Crew and beautiful boat! We had an awesome time despite the dreadful weather! Hope to come back again soon.
Tyron Jardine
Mei 2019 - Albatros
We have been a group of 13 men between 28 - 42 and we loved our tripp. it was an amazing experience. The crew was amazing. I def. recommend the ship and the crew. We felt safe, everything was clean, everything workout and the sailing was so much fun and hands on.
Judith
Juli 2018 - Mare fan Fryslan
One of my best vacations. Joris and Rinske and the crew were skilled and delightful. Sail with them - you will not regret it!