Markermeer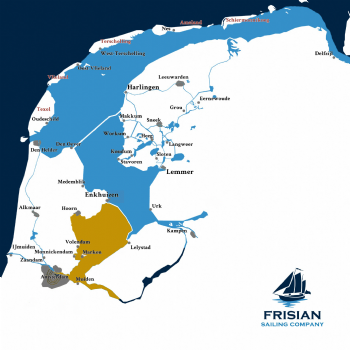 Around the Markermeer, the southern part of the IJsselmeer, are a number of beautiful, striking port towns. Cultural and tourist outings - whether or not with a historic character - are therefore the greatest asset of this area, because as a pure sailing area, the Markermeer is a bit more limited than, for instance, the IJsselmeer. With Hoorn, Volendam, Marken and Amsterdam as potential outings, the Dutch history is within reach and there is a very broad choice of educational, inspiring, relaxing and tasty activities.
Sailing and distances
You can sail from one port town around the Markermeer to another within a short time. Even the longest route - from Enkhuizen to Amsterdam - can be completed in one morning with good weather conditions. Just like on the IJsselmeer, sailing on the Markermeer is almost always possible. One side of the Markermeer is characterised by the old Dutch polder landscape with dikes, windmills and picturesque villages like Volendam and Monnickendam - interspersed with the recognisable silhouettes of the VOC cities of Hoorn and Enkhuizen. On the other side, you can find the modern polder landscape: this is where Flevoland is the trophy of winning the battle against the Zuiderzee after centuries. To the south are Marken, Muiden, Zaandam and, of course, Amsterdam.

This beautiful decor ensures that there is always something fun to see while sailing, but the Markermeer is large enough for enthusiastic sailors to really get to work.
Destinations
The Markermeer has some of the best-known and most iconic Dutch port cities: Amsterdam, Volendam and Hoorn are just a few examples. In addition, Flevoland is the testament of a more recent period in the battle against the water. The most recent victory on the Zuiderzee can be visited from mid 2018: the Marker Wadden - a group of islands created for nature on the north side of the Markermeer.