Ready to set sail with your entire company, a group of colleagues or other relations? Then you are certainly assured of a valuable investment. Because sailing on the Wadden or IJsselmeer provides more than just a social gathering. When sailing you also get to know each other from a different angle. And that gives a fresh outlook!

Whether it involves active sailing or, above all, leaning back and relaxing, the Frisian Sailing Company always has a suitable ship for your business group within its fleet. Varying from attractive luxury to practical simplicity. And whatever ship you choose, the Wadden or IJsselmeer form a beautiful backdrop for every purpose. Day after day.


4 benefits that a sailing trip brings to your company: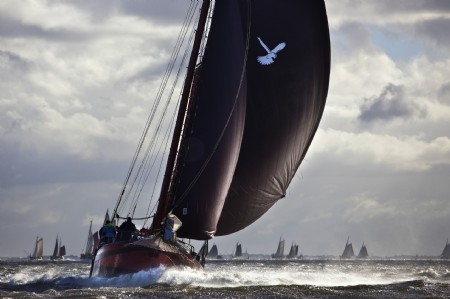 1. Adventure inspires your employees

You are, of course, busy, busy, busy ... And the art of having fun is quickly lost. With a standard company outing you arenít probably really going to make a difference. So how do you bring creativity and energy back into your organisation? Opt for an unforgettable adventure aboard one of our beautiful ships.

The skipper sets course for the horizon. And once out of the port your people are completely free. Pull the sails tightly to the wind, stand at the helm, or, even better, enjoy the view ... Just recharge, all together, and get new energy.
Make the time for your employees and get energy in return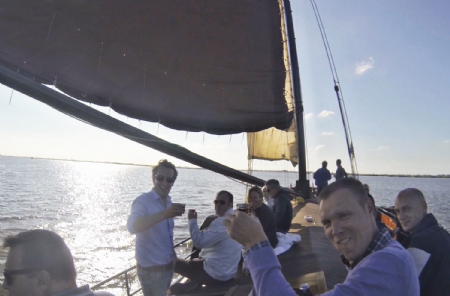 2. Being on the water together strengthens valuable relationships

What do you do to bind your customers to your company? Do you print notepads with your logo, or would you rather offer them an unforgettable experience? Exactly, the latter of course.

A day of sailing offers a nice mix between being active and relaxation. Depending on the weather conditions, your relations will the enjoy the unique environment, and each other, whether on deck or in the attractive salon.
Interesting conversations arise in the time you spend on board together. And many times, also plans. So itís then nice if these relations think of you again in the future!
Invest in your network, organise your own Ďrelations dayí on a ship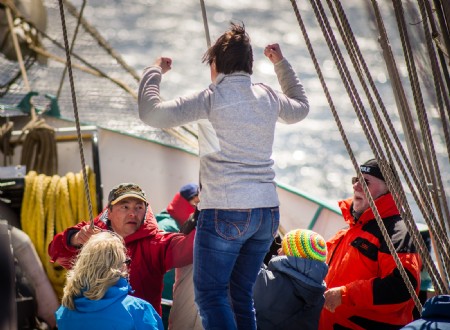 3. Sailing together creates a close team

Your team works hard every day on various challenges. But you have the idea that working together can be even better. Smoother, more efficient or simply more fun. Like to see your team as a well-oiled machine? Then itís good that your team also experiences what itís capable of outside the company. Like sailing a ship smoothly through the waves, for example.

The crew of our fleet are able, together with your people, to get the best out of their ship and your people. Sailing requires strength, insight, guts and energy. So sitting still is not an option in this case. Taking optimal advantage of the wind shows - and letís you feel! - what you can achieve with good cooperation. And that creates a strong bond that remains intact once youíre back on shore.
Take the challenge and make your team even stronger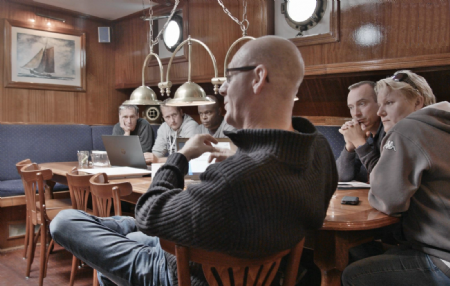 4. Sailing gives your organisation or project a boost

Do you really want to inspire your employees? Then use one of our ships as an "office on location". Because where better to meet than in the healthy outdoors? And be honest, every presentation makes more of an impression in the atmospheric salon of a traditional sailing ship.

In between sessions, the deck offers a relaxed variety for each type. Help to raise the sails, or just get some vitamin D.
A day of carrying out your daily work aboard a characteristic ship undoubtedly guarantees a lot of new ideas.
Give your organisation or project a boost on a ship with character

Countless possibilities, but your goal determines our course

Saying that almost anything is possible with the Frisian Sailing Company isnít even the extent of it. That's why we prefer to ask: what is your goal and what do you want to achieve? Then we determine our course based on your wishes.

The details of your day, several days or a weekend on board can be fully customised: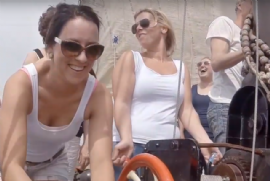 Sailing
It may seem a sine qua non, but actively sailing on a ship is an activity in itself for companies. With which you can fill an entire day.

When sailing, the water is your partner and the wind your friend. The ship that makes smart use of the elements under the supervision of a professional crew ensures that you can simply enjoy yourself. With your hands in your pockets, or by actively participating. And maybe even be at the helm!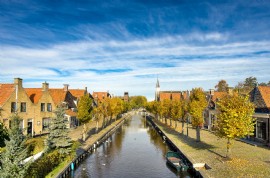 City trips
Of course youíll be on the water. Nevertheless, the IJsselmeer offers more options than just sailing. For example, moor in one of the many harbour towns in the former Zuiderzee. Have you been to Enkhuizen, Marken or Medemblik in North Holland before? Or the Frisian Stavoren, Lemmer, Makkum?
Take a city walk, possibly supplemented by a visit to a local museum or nice restaurant. Do you prefer sporting or recreational activities? We have good contacts with providers of fun activities in many places ashore. Varying from a mapped out bicycle or solex tour to an exciting escape room or live monopoly game.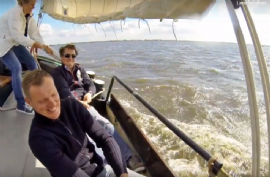 Team building
Being in control of a powerful sailing ship with colleagues, thatís a good feeling! Our skippers and crew are happy to get to work together with your people to teach them the intricacies - or rather powerful actions - of sailing. Often enough, inexperienced sailors are surprised by their hidden qualities. And soon everyone discovers that working together on board is a must for achieving the best results. Of course, other inspiring ways of team building are organised by us on the ship, or ashore. Such as challenging games, or an interesting speaker.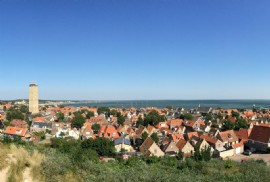 Visit the islands
From the port of departure in Harlingen itís possible to visit the unique Wadden islands of Terschelling or Vlieland in one day. If you are sailing for longer, Texel, Ameland or even Schiermonnikoog are also worth a visit. And the great thing is, you are sailing a unique course at your own pace. That means not being tied to the timetable of a ferry and just being able to stay a little longer if youíre having fun somewhere! In addition, the Wadden Islands offer many sporting activities that turn a multi-day trip into an enriching experience. How about blokarting, power kiting, beach riding or coast rafting? Exactly, lots to do!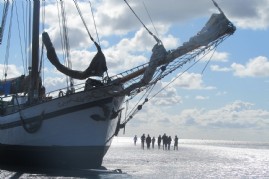 Dry-docking on the Wad
Do you opt for a sailing trip on the mudflats, with at least one additional overnight stay? Then - depending on the tide - dry-docking on the mudflats is a very special option. With the ship's flat belly on the ground, simply jump overboard and continue walking on the dry seabed!
You will soon understand why our Wadden Sea has been declared a World Heritage Site for good reason, with your bare feet on the sand. You are in the middle of a unique environment that is bursting with life. With a bit of luck you may even spot a few seals!



Always a suitable ship for your group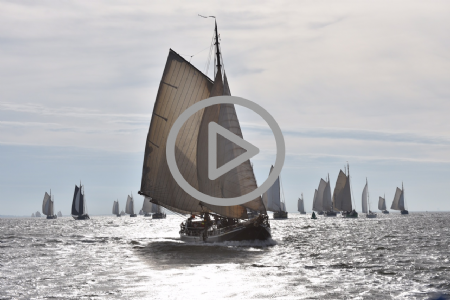 Our fleet has 22 ships that are happy to explore the Frisian lakes, the IJsselmeer or the Wadden Sea with you. Each with its own character, with a colourful skipper, expert crew and various facilities on board. We have smaller, cosy ships suitable for groups of 12 people and more. The larger, more robust guys can hold up to 70 day guests.

An intimate and familiar atmosphere is quickly created on the ships that adorn themselves with simplicity. If you prefer to defy the waves in a less modest setting, you can choose from more, or even extra comfort. Of course, the size and composition of your group determines which ship meets your needs. The departure port and the duration of your business trip also plays a role in this.

For day guests only, we may recommend a different ship than when you also want to spend the night. The number of sleeping spaces on board is variable, as well as the composition and comfort of the sleeping quarters. Think simple but cosy multi-person cabins with bunk beds or luxury double accommodation with wonderful box-spring beds and private sanitary facilities.


As you may understand, there are quite a few factors that determine the specific type of ship. And we understand that it may therefore be difficult for you to choose. That is precisely why we are happy to help you. So that the goal you have in mind is actually achieved. With the right ingredients, we can create an unforgettable experience together!

Receive a proposal, without obligation, for the type of ship that we recommend

Food and drinks, a matter of convenience or teamwork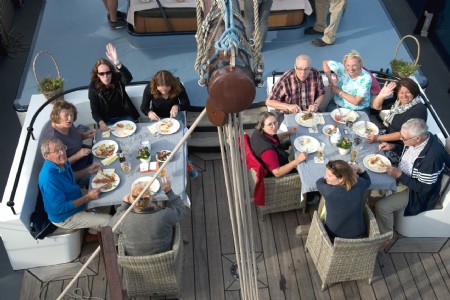 You decide for yourself what role food and drinks play during your sailing trip. Every ship has a well-equipped kitchen on board. You will be able to cook a variety of hot or cold dishes in no time, especially if your company is helping out. There is sufficient storage and cooling for a large stock of groceries. Which we can do for you in advance, so that the fridge is filled upon arrival.

Not a kitchen prince(ss) and would you rather be pampered? Then we will arrange for a cook on board. Depending on your wishes, these tasty meals are prepared on a half or full board basis. Taking into account any dietary requirements, preferences or allergies. So that enjoying good food is the only thing you and your guests have to do on board.

Are you looking for a place to eat ashore, but you have no idea which restaurant suits your budget or company, then we are happy to help you in making a choice.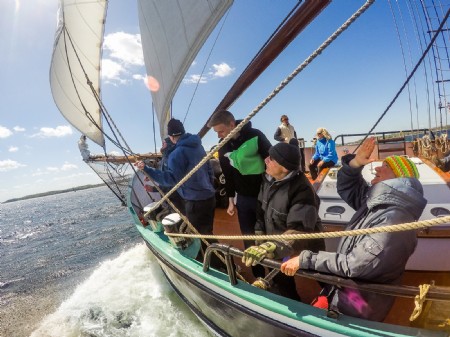 This is what are rejuvenating company outing costs
The base price of each ship includes skipper, a crew member and port dues.
Of course there will be the remaining costs, depending on the size of your group, the duration of your sailing trip and any additional wishes you may have. Just as we can arrange your customised trip, the costs can be customised just as well. However, youíll naturally want to know in advance whether your plans also fit within your budget. After all, nothing is as unwanted as surprises afterwards.

These are the variable costs that youíll need to take into account with regard to your budget estimate:
cleaning (amount varies per ship)
food and drinks (there may be the option of using our shopping service)
catering (with a cook on board)
bed linens, in case of an overnight stay (options and amounts varies per ship)
additional outings and activities
Feel like a fresh breeze through your hair, and your organisation?
Then of course youíll want to know what a rejuvenating company outing will cost. We are happy to outline it for you.

SEND ME A REJUVENATING QUOTE

No worries, you will receive a non-binding offer. So you are not committed to anything. OK ... except maybe a cool idea, that you wonít want to let go ;-)